Missy Mag™
Missy Mag™ will stop dust in your arenas without any watering. A simple application of Missy Mag™ is usually only needed twice a year. Let Missy Mag™ work for you, so you can spend more time in the saddle. Most importantly, Missy Mag™ is safe for you and your horses. Just apply as directed.
What is the product?
Missy Mag™ is a proven humectant agent that draws moisture naturally from the air. One pound of Missy Mag™ has the ability to hold four times its weight in water. Missy Mag™ can be used in any arena. Missy Mag™ is 100% magnesium chloride which is 2.5 times less toxic than table salt, half as toxic as baking soda and very comparable to vitamin C.
"We have several clients that love this product. Great way to reduce dust, save time and protect you and your horses' health."
– Dr. Chris Wilhite, DVM, Wilhite and Frees Hospital
Missy Mag™ can be used in any arena.


Giving Back
Missy Mag proudly supports Changing Leads Equine Rescue. A portion of your purchase will go to this program.
"Healing Spirits, Changing Futures, Refreshing Lives."
[CP_CALCULATED_FIELDS id="1″]

How to apply?
Arena needs thorough, even coverage. Use a broadcast or rotary spreader and create checkerboard pattern north/south and then east/west.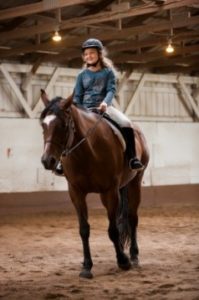 To begin, you will need 1.75 lbs of Missy Mag™ per square yard of surface. There is a conversion calculator on our website. If there is still some dust, add a few more bags of Missy Mag™ until you get the appropriate formula for your footing. Objective of proper dust control is to work up to the correct amount and NOT OVER APPLY.
Let product set up 24 to 48 hours depending on humidity. White crystals will disappear and footing will look damp. Drag the arena. Now You Are Ready To Ride!
Applications are typically required one to two times per year.
"We love the consistency of the product and footing.  Don't get slicks spots like you do when using a watering system. " – Elizabeth Hill, Woodson Hill Equestrian Center, Kansas City, MO
How to maintain?
DO NOT apply water after putting down Missy Mag™. You will wash it to the sub-surface where it will not be as effective. Regularly groom riding surface with a tine harrow or other drag-type device which will pull the footing up from the base and turn it over.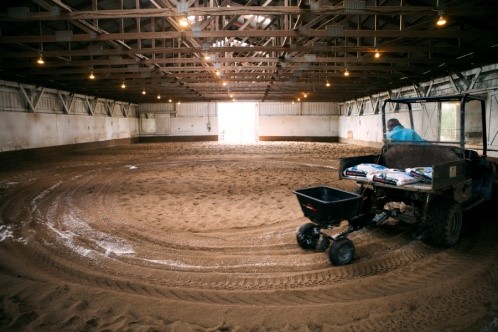 Download Data Sheet

Follow us on Facebook